Discussion Starter
·
#1
·
Product Name:
Front End Cover GM #17801160
Type of Modification:
Appearance and Protection
Price:
List price $95.00 U.S.
Product Rating:
10
Material:
It's made from "Tricomposite" and is said to withstand extreme temperatures, and resist small stones.
Where you bought it:
I had the parts man, Walt, at Sunwest Motors, Newport, OR, order it for me. It was manufactured in Canada.
hcanada
Installation:
It took me about 45 minutes to install it. It would probably take me 10 minutes to put it back on if I removed it. I had to install 4 snap fasteners which were a piece of cake, because you remove 4 screws under the front end, and replace them with the 4 included snaps. After that, the bra goes on easy, and comes off easy. In fact, it wasn't as hard to install as others I've had. If it's cold weather, probably nobody could install it the first time. But, with warm weather, or indoors with heat, probably most people could install it. It comes with a small easy to follow, instruction sheet in three languages. You need a phillips screwdriver and a pair of pliers. The screwdriver to install the snaps, and the pliers to bend the tabs on the bra so that they fit the wheel wells snuggly.
Make sure the bra and the car are warm when you install it. Things get tough quickly if it's cold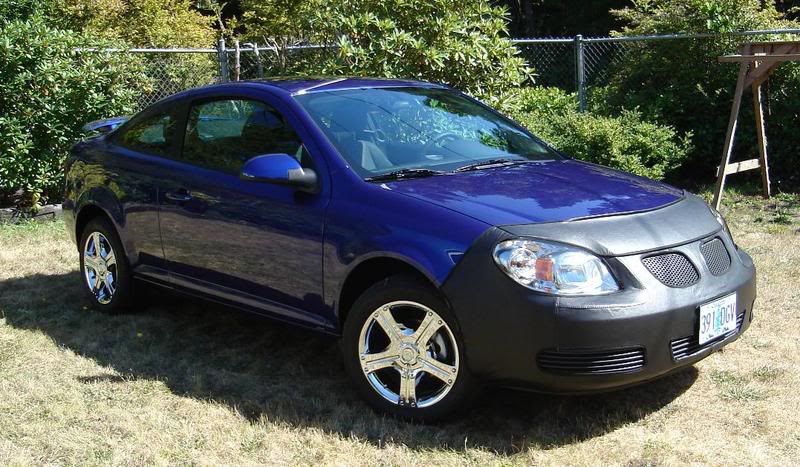 What do you think? The dealer sold it to me with 10 dollars off, which made it 85 dollars U.S. Nice, and it was worth it.
Also, it has a small wind deflector to help carry bugs and stuff up and over the windshield. That's the smallest bug deflector I've seen.