My story first just to see if you are in the same boat at i was. I bought some cobalt wheels for my g5 had tires mounted. Put them on the car was driving and i never thought about it untill the TPMS light came on and I never had Sensors put in my new wheels. The sensor were still on my old wheels. So if your in the boat i am. Here's what i did to get around it without paying 50$ a peice to have new sensors put in the wheels.
_______________________________________________________________
WARNING!!!! This How-to contains pressurinzing an item not supposed to be pressurized. Be-carful, Also i did a lot of the work at work, and a lot of people thought i was building a bomb. so be aware. haha
_______________________________________________________________
Ease of Project: easy
Time: Took me a couple days just to let stuff sit and dry be paitient
Tools Needed:
1. Valve stem puller
2. Pipe Wrench
3. Saw (i used a ban-saw at work for a perfect straight cut)
4. Small TORX
5. Drill with 1/2" Bit (i think cant remeber which bit i used) pretty sure
6. Bicycle Pump
Supply's Your Will Need:
1. 4x2" PVC Pipe (non-pressure pipe is what i got)
2. 4" End Cap
3. 4" Fitted Screw-In Adapter
4. 4" Screw in Cap, to screw into #3
5. PVC Cement handi-pack(comes with primer and cement)
6. Teflon Sealant Tape
7. Four TMPS Valve Stems (NAPA Part# 92-0145)
Total Cost
Home Depot : 27.57
Napa(after my dads discount and the stems were on sale) 11.00
Total : 38.57 compared to 200 for new sensors.
____________________________________________________________
On to the work. No Pictures untill the end.
1. Cut 4" PVC pipe to desired length. I cut mine about 10"
2. Sand edges, get all the burs out.
3. Prime pipe, and end cap, and also the screw-in fitting
4. Cement the same as above, and Push on the end cap and the fitting, after you slid it all the way on try to turn it 90 degrees which i couldnt. Just gives it a better seal. Let it dry for a couple days just to be safe.
5. Next is Drilling 4 holes in the top of the Screw on cap. I do beilve they are 1/2 inch holes. Drill 4 holes one on each side of the Square. and Get all the Burs out
6. Putting new valve stems in the cap, You really need a valve stem puller or your just going to damage your new stems. make sure you turn your valve stem so the sensor will go on the right way, cuz its hard to turn it when its installed.
7. Hopfully you already got your old tires off cuz you'll need your sensors which are located on your valve stems. You'll need a small torq bit to take them off.
8. Next is installing your sensors on your valve stems. Your new valve stems should have came with new screws, the stems are not threaded so you will thread it yourself with the new screw, so just put the sensors on all 4 stems.
9. Teflon tape the crap out the end screw cap so it wont leak
10. Screw cap on as tight and as far as it will go. Pipe wrench works really nice!
11. Pump up your PVC pipe and check for leaks, shouldnt have any if you were paitient and did it right.lol
12. I pumped it up to 30PSI
13. SYNC the sensors to the car. Put keys into igntion turn to acc, Press unlock and lock at the same time on your remote. Horn will sound 2 times
14. the car starts with the LF, RF, LR, RR as you let air out the horn will beep a bunch of times syncing the sensors to your car. This is in your owners manual, so follow that
15. Pop your trunk and slip it next to your spare tire. and NO MORE LIGHT your all set to go!
16. Your just outsmarted your car computer. Good thing computers dont have common sence or this would not work. haha..
______________________________________________________________
Now for the end result pics.
Everything Cemented Together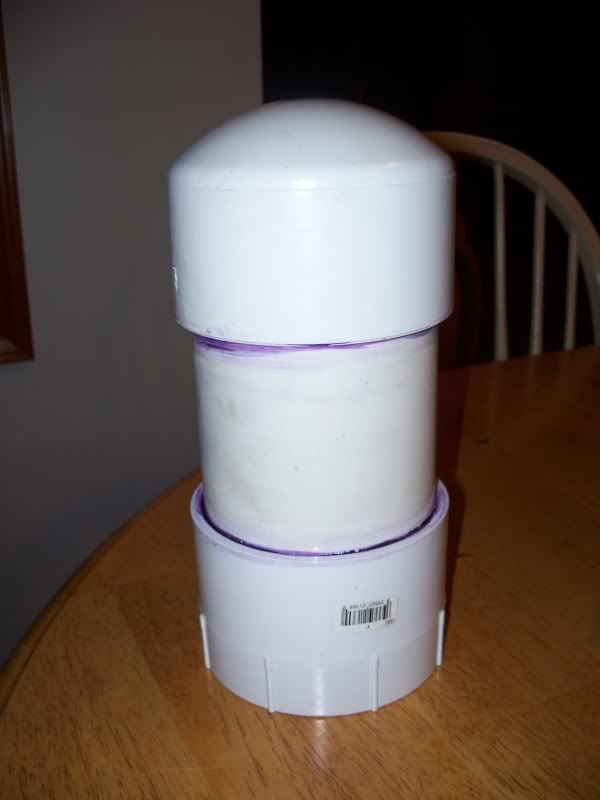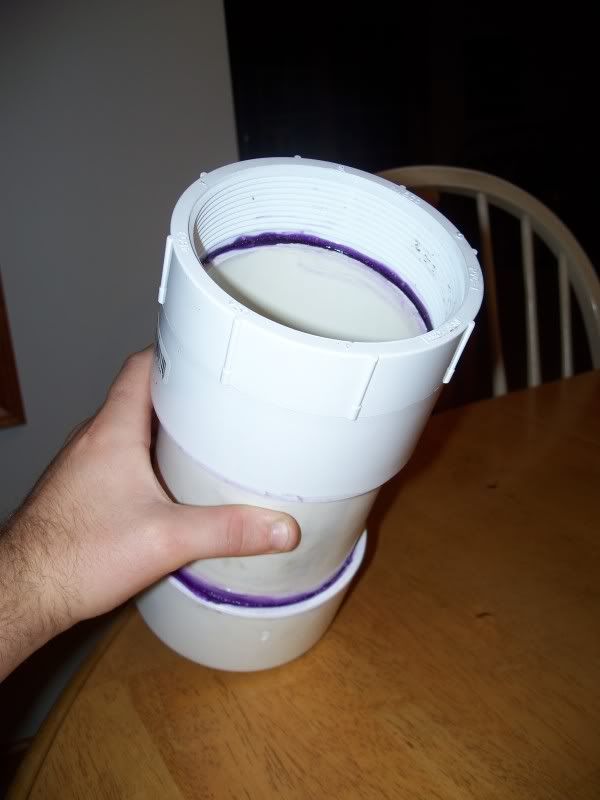 Valve stems installed on the screw cap
Pictures of Sensors installed on the valve stems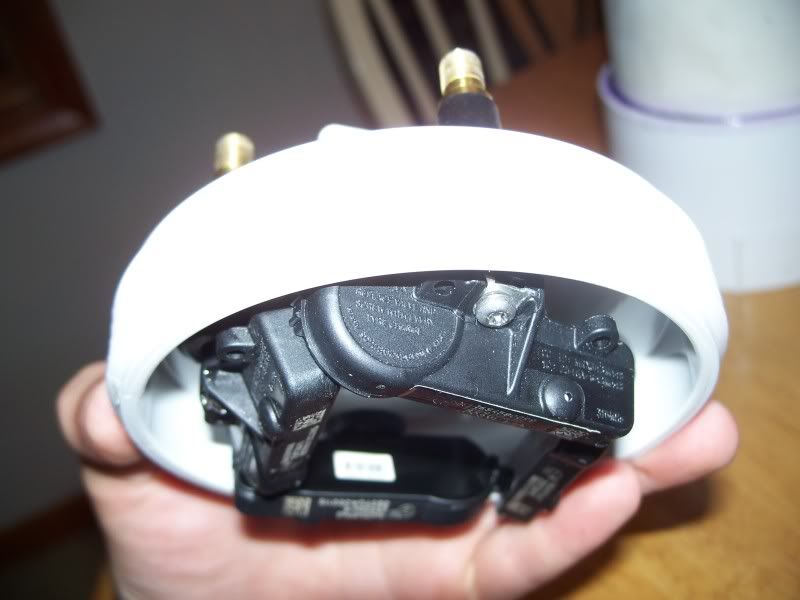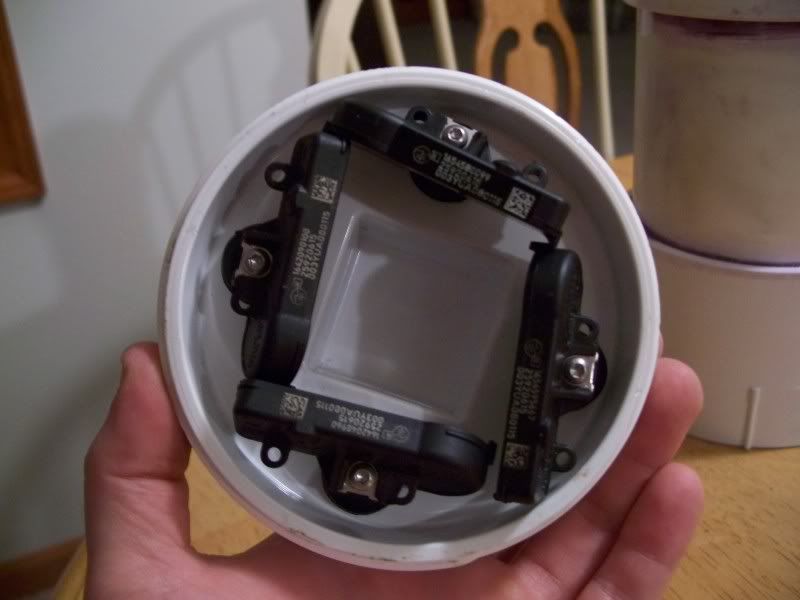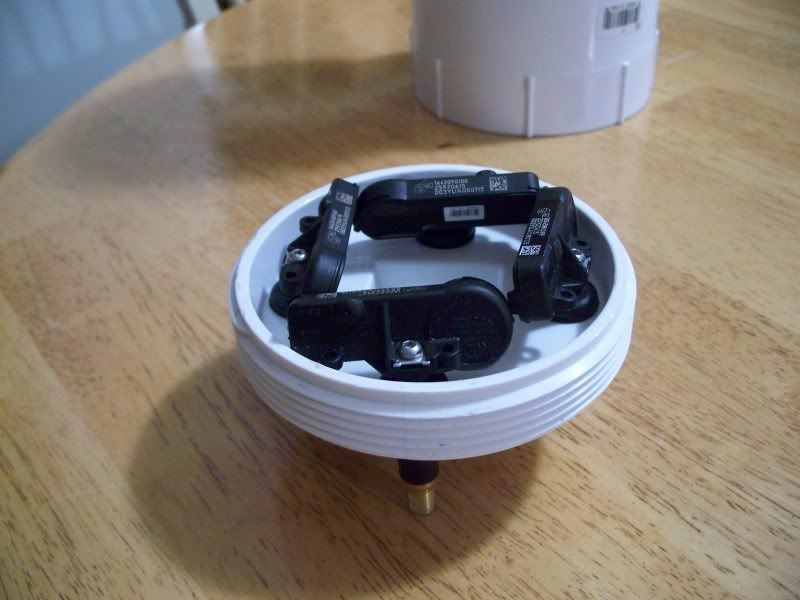 Screwing on the cap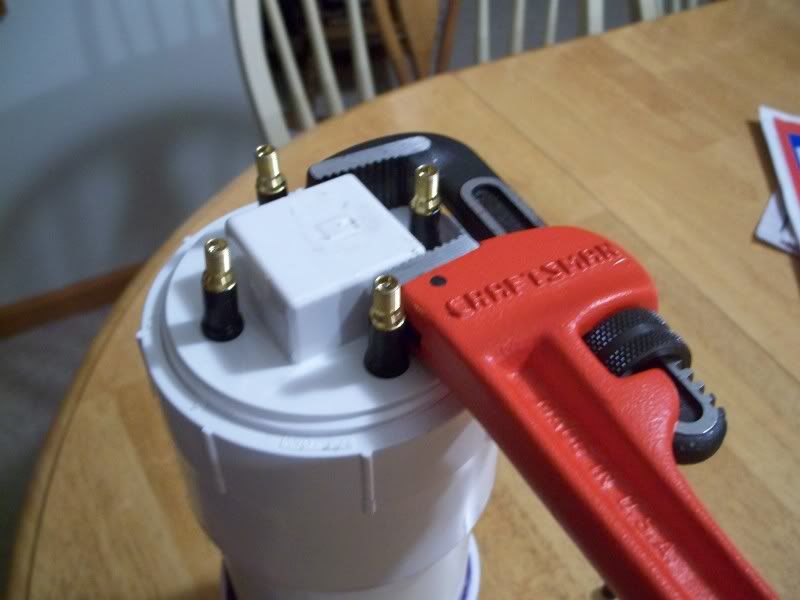 Your bombs ready for lift off.. haha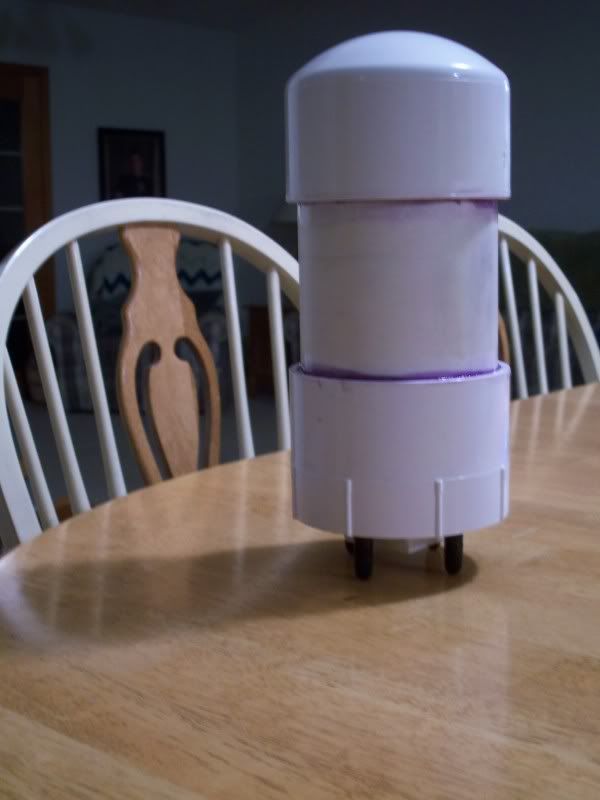 Adding air, I do not suggest useing an air compressor due to the amount of air will go into it. Could blow up. Go slow with a bike pump with a guage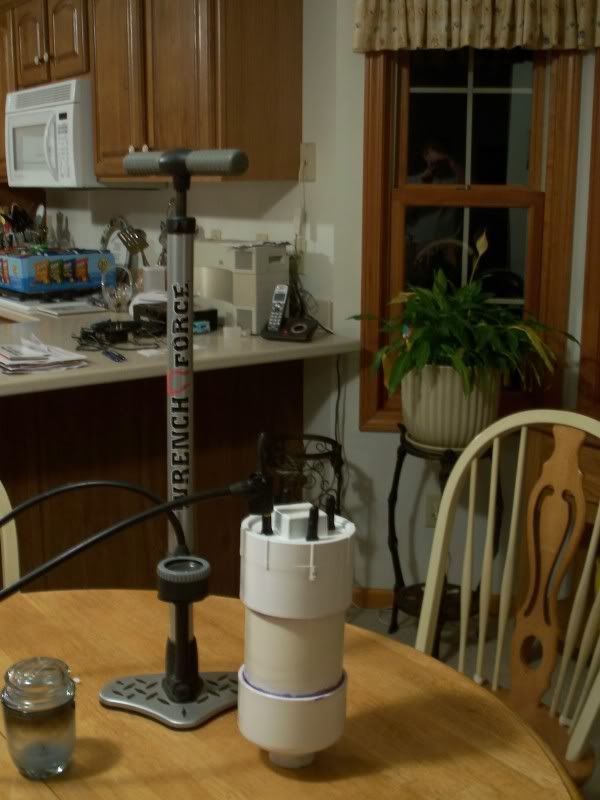 Before SNYC the sensors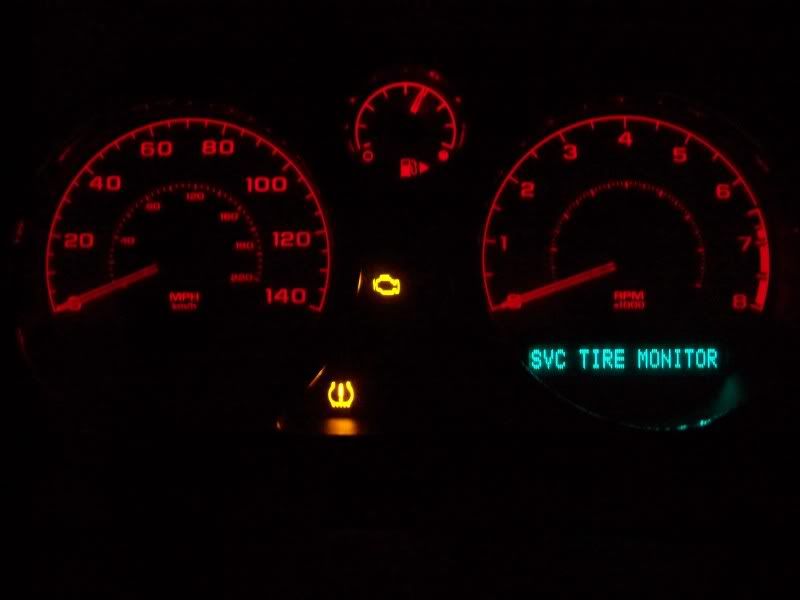 AFter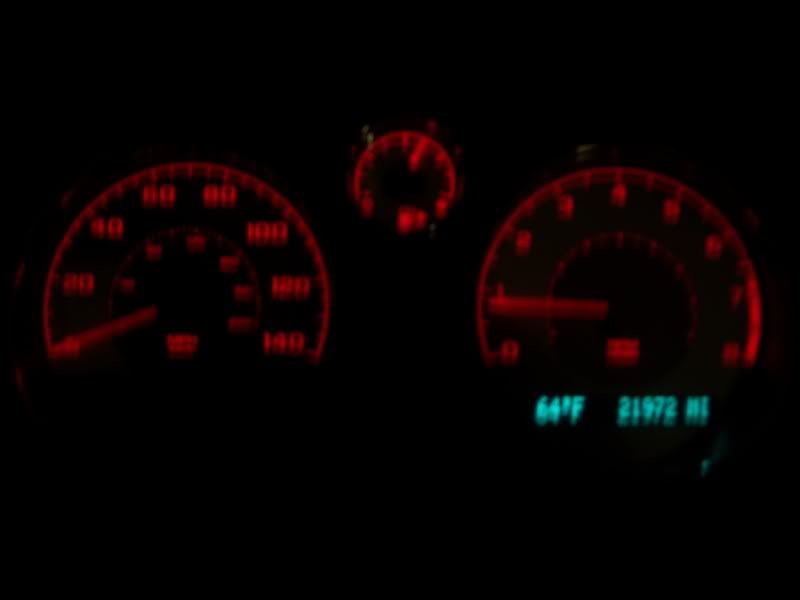 Aviously the sensors arnt accurate cuz all the pressure should be exactly the same since there all under the same pressure.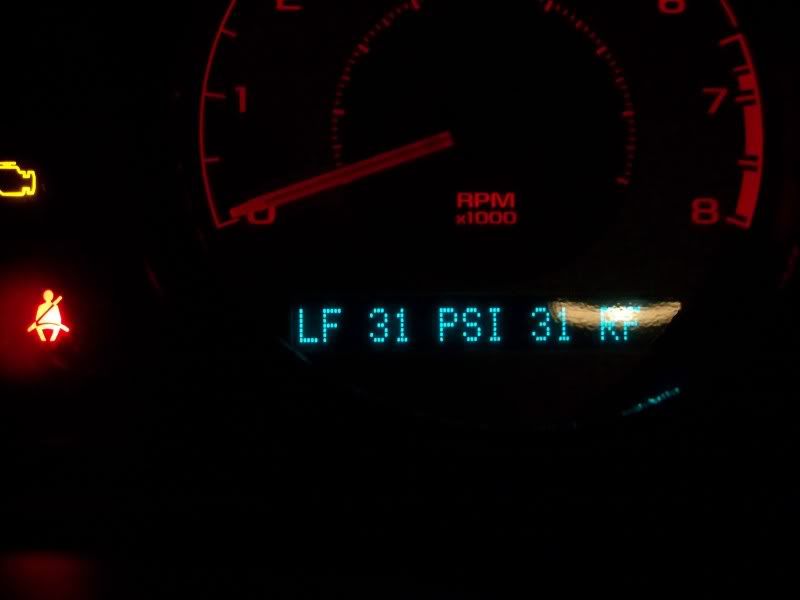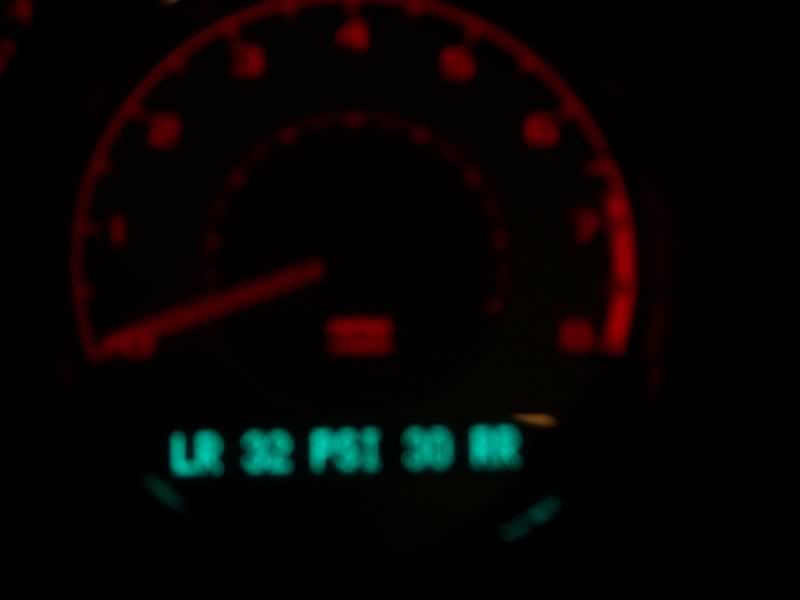 In the trunk. Fits perfect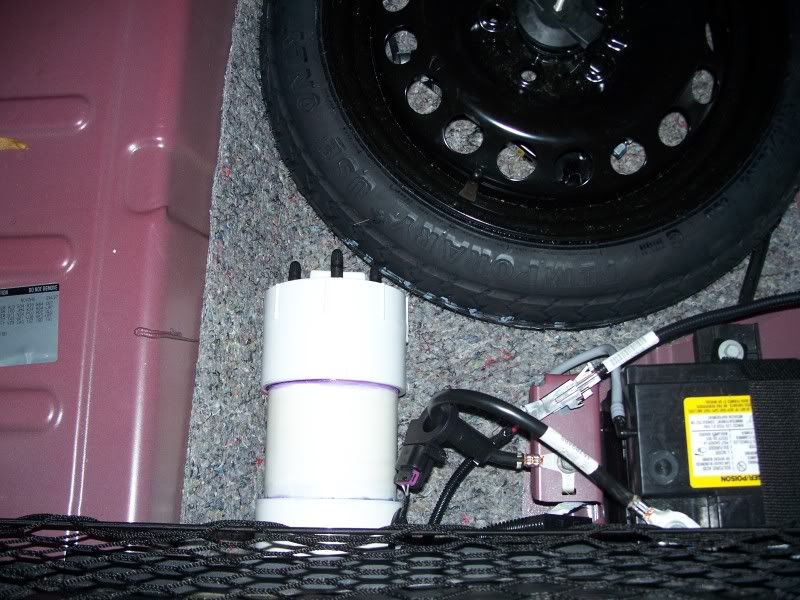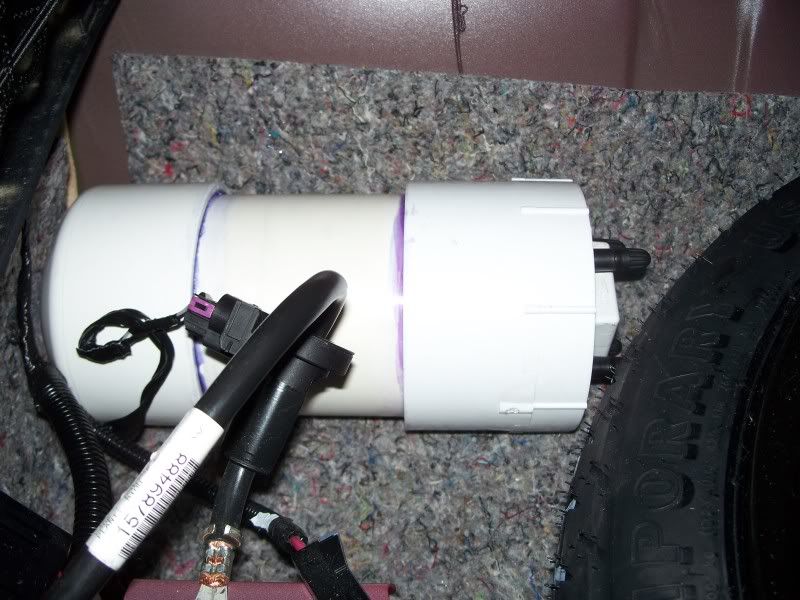 Who would ever KNOW?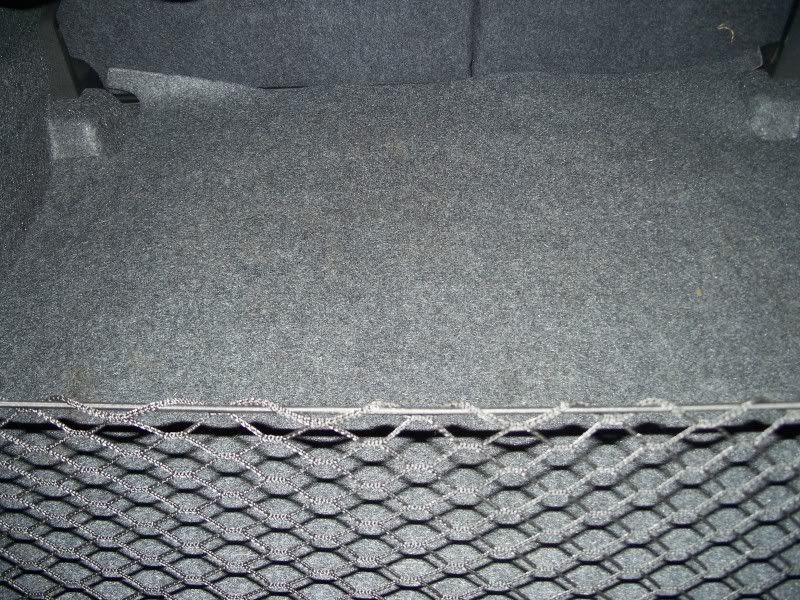 I hope your dont get pulled over, and while the cops searching your car for drugs finds this and wonders what it is.haha.. Good luck.
I hope this how-to is useful, it worked for me and its nice now i can run any wheels and tires i want, without worrying about the sensors,
Good for people who run 2 sets of wheels, winter wheels and tires and ur stockers.
Shit Delete one of these sorry