Subject:
How to polish bare aluminum
Tools needed:
wet dry sand paper in grit's of 320?, 400, 600, 1000, 1200 and 1500. bucket of water, buffing wheel compound ( consisting of Tripoli, White Rouge and Red Rouge, also know as jewelers rouge ) 3 buffing wheels and a bench grinder (works the best).
Patience, patience and more patience, one of the most important parts.
For valve cover removal:: 10mm, 13mm sockets, short extension and ratchet, pair of pliers, flat screwdriver.
Ease of Install:
EASY
Estimated time to Install:
as many hours as you want to put into it.
POLISHING 101...
Since we used a valve cover to be polished...... this was asked to be added, lol. Photo at the end shows numbers in correspondence with this to be removed.
Remove engine cover and intake, I think we all know how. Remove #1 hose at valve cover with pliers.... #2 engine lift bracket at left rear of engine(2 13mm bolts ) on left side of engine...... #3 loosen 2 clips with fingers or screwdriver on the fuel supply line...... #4 disconnect 4 electric plugs on the coils and 2 on the sensors by pulling the grey plastic piece out of the clip and depress the clip in where you removed the grey piece and pull out gently...... # 5 loosen all 15 (10mm bolts) on valve cover 3 ROWS OF 5 ( middle row 4 hold the coils in also )
not shown with # in photo lift up on the wire loom retainer clips ( 2 ) on the loom where the coil wires come out of to remove them...leave attached to the loom though.......
Remove the loosend coil bolts( 4 ) and pull up gently on each coil to remove and set them aside......Make sure all of the remaining 11 bolts in the cover are unscrewed as you will remove them from the valve cover after it is off. Its ready to lift up and work it out through the wire loom on the right side or where ever you can get it out.......... NOW THAT ITS OUT..................to remove the bolts, sleeve and rubber bushings... with the valve cover upright and the bolts hanging down....pry up on the metal sleeve between it and the rubber bushing with a screwdriver or similar type device....
you only need to seperate them about a 1/4"-3/8" and then pull the assembly out of the cover...
That is not required, but to do a real good job of polishing, you want those bolts and bushings out of there...lol To reinstall reverse order and tighten all bolts snug and just a little bit.
Also to remove the oil cap adapter (riser) pull up with a strong force rocking back and forth and it will pull out....
:arrow: Start with your aluminum part, clean it well. Get the bucket of water and start sanding with 400 grit wet or dry sandpaper ( the black stuff).
With our valve covers you might need to start with 320 grit.
Sand the entire part, rinsing the project very often and dipping the sand paper in water more often to keep grit off of the project. (VERY IMPORTANT)
While sanding whenever possible always use a backer for the sandpaper, this will keep the sanding flat.
Failure to do so will give you a wavy look to the shiny valve cover.
I use a little palm sander on the tops of the cover, works good.
Before moving on to the next grit of sandpaper YOU MUST remove the scratch marks from the previous grit first. ie: (if your using 600 grit...all of the 400 grit scratches must be gone before moving on to the next grit. same for all steps. 1200 grit remove all 1000 grit scratches before moving on.) When the sanding becomes easier you are just about ready to move to the next grit. If you don't get all the scratches out with the grit you are currently using, moving on to the next grit early only doubles or triples your work effort.
You MUST keep the project CLEAN, by washing it in warm soapy water between each step - both sanding and polishing. It must be clean before moving on. If you do not , especially during the polishing stage, you will never get a good shine. This is because, courser grit in the polishing compound will always be on the aluminum if it is not washed clean.
Now its time to polish -
I find a bench grinder works best, you will need 3 different buffing wheels (about $6 usd each). I use 1 firm (orange) for the first buffing stage and 2 medium (white) for the last two buffs.
Some small buff wheels for a drill are also nice for getting into the tight areas.
Take your polishing compound and apply it to the buffing wheel while it is turning. Apply a generous amount to the wheel and use a scrap piece of metal on the wheel to spread out the polishing compound.
Warning: DO NOT use the same piece of scrap metal to spread out the buffing compound
unless you clean it good in warm soapy water................................................
Then start to buff the project. When polishing buff in one direction and then go back and cross buff the next pass. It will take a few times of putting polish on the wheel for each polish. You should use Tripoli for the first buff. The project will start to shine but will have buff marks or swirls at this stage.
:arrow: CLEAN THE PROJECT WITH WARM SOAPY WATER AND DRY WELL. I know I say this all the time but do it.
Next use the White Rouge and go through the same steps as before, but take a little more time to buff. At this stage the project will really start to shine but will still have some buff marks in it.
(some people stop here cause it looks nice)
(Aluminum will shine in many different stages do all steps and its like a mirror)
:arrow: CLEAN THE PROJECT... CAN'T EXPRESS HOW IMPORTANT IT IS :!:
Last step is with the Red Rouge. Again same steps as above but again take a little more time to buff. At this point if you sanded your project correctly and cleaned it throughly every time you will have a mirror like finish and trust me..... its SHINNY :lol:
I also like to do a fast final hand polish, all I recomend is that you use a liquid type polish for this.
It does take many hours, but in the end.......
IMO, WELL WORTH THE TIME SPENT......
Total cost is more time than money....$20 for 3 buffing wheels, $6 for the buffing wheel compound.
You need to have patience with this project because it will take some time if you want it MIRROR SHINY
Hope this helps anyone that wants to do it, its not hard.
Just devote one day or a weekend and you'll love the results....
I have heard of some people clear coating polished aluminum parts.....
hmmmmmmm, I guess it will work, BUT.... if its poor coverage with the clear coat.... moisture will get under it and and then you will have to remove the clear to do anything about it.....hmmmm ???????
not sure I'd do that.....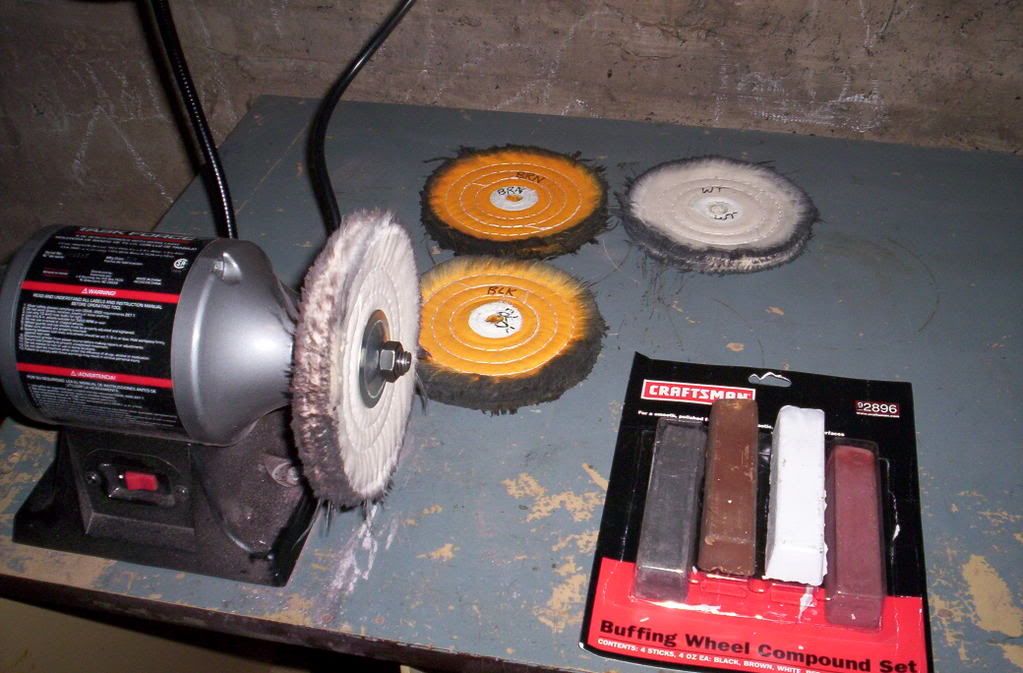 [/b]